Desert Spring DS3200 Furnace Humidifier
Combine the best whole house central humidifier with it's most popular accessory!
Order a Desert Spring Autoflush at the same time as your humidifier and save!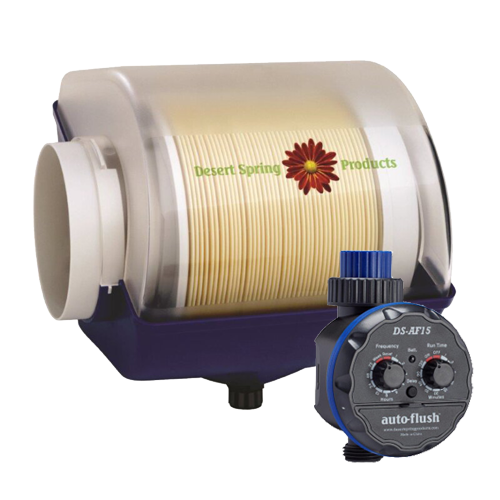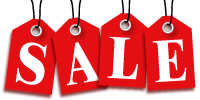 Description & Benefits
How It Works
Specifications
Install / Manuals
Reviews
F.A.Q.
Description & Benefits
The Desert Spring furnace humidifier is a new state of the art whole house humidifier that uses patented disc wheel technology to do away with foam pads, drums, and screens that need to be replaced. The Desert Spring humidifier requires virtually no maintenance and no replacement parts. Adding the Desert Spring Autoflush converts it into the DSRDAH which reduces any maintenance even further! It saves you money while at the same time conserving water and saving energy! We are so confident that you will be the best furnace humidifier you've ever used that we offer a 30 day money back guarantee if you are not fully satisfied.
Furnace Humidifier Features:
15 sq.ft. of evaporation
Only one annual cleaning
Never needs refilling
No parts to replace
Desert Spring Autoflush reduces maintenance even more!
How it Works... Desert Spring Rotary Disc Wheel Technology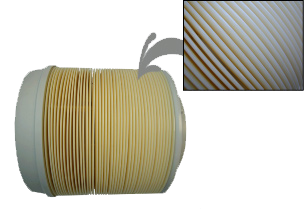 The Desert Spring furnace humidifier uses a patented rotary disc interface technology which provides over 15 square feet of evaporative surface with a unit that is no bigger than most traditional furnace humidifiers. This cylinder of ring-shaped, flat plastic disks which rotate through the water reservoir, is the central part of the desert springs revolutionary technology. As the drum turns, microscopic groves on the high temperature plastic discs picks up a minute layer of water which is then evaporated into the air. Any minerals that are present in your water are simply washed off the disc assembly as it spins back through the water in the basin.
The Desert Spring furnace humidifier is not susceptible to mineral build-up which can cause the drum to become unbalanced and put unnecessary strain on the humidifier motor. Minerals will also not build up on the surface, like what happens with your traditional foam pad or drum humidifiers, trapping water and allowing it to stagnate.
How it Works... Desert Spring Autoflush
The Desert Spring Autoflush eliminates mineral build-up by systematically flushing the unit at a user-set interval. This interval can be set by the homeowner so that it is optimal for the amount of mineral in their water supply. As this product significantly reduces the build-up of any mineral deposits in the basin of the humidifier, it significantly reduces the maintenance required for those individuals with very hard water.
Specifications
Desert Spring DS3200 Furnace Humidifier
Dimensions:
12" wide x 11" in high x 12" in deep
Capacity:
Up to 3200 square feet for a tight (well insulated) home
Water Consumption:
Maximum 14 gallons per day unless equipped with the autoflush - ARI Standard 610-96
Application:
Any forced warm-air furnace
Electrical Requirements:
24 Volts / 60 HZ
Plenum Opening:
7.8" wide x 6" high
Bypass Duct:
6" diameter flexible ducting (supplied)
Water Connection:
Saddle / Needle valve (supplied)
Humidistat:
Manufactured by Honeywell (supplied)
Installation / Manuals
Installing a Desert Spring DS3200 Furnace Humidifier is relatively simple for most handy homeowners. Please read through the installation guide and watch the installation video before deciding if you would like to install this product yourself. Any general handyman or Heating and Air conditioning company should be able to quickly and easily install the DS3200 if you are not comfortable doing it yourself.
Desert Spring DS3200 Humidifier w/ Autoflush (DSRDAH) Reviews
Second Time Around

We got one of these Desert Spring humidifiers at our previous home to replace a non-functional drip type. It was easy to install and made such an immediate and significant difference that when we moved we put one in the new house, and it has also been great. We got the auto-flush option both times for convenience, but unfortunately on the latest one it was received defective. It was no problem to get a warranty replacement from HomePlus (came within a week) and it has been working fine since. We love our humidifier.
- John Turner
Humidifer works and looks great

Simple to install, looks great when finished. Runs really quiet.
- Dan
Excellent product

Does what it's supposed to. Easy to clean.
- SteveR
Great Unit and seems to work well

I purchased the Desert Spring whole house humidifier and installed it in the late winter and it seems to work well. The big test will be next winter to see how it works when it's 30 below outside! I also purchased and installed the Autoflush system, but unfortunately I can't use it as I don't have a drain in the basement capable of handling that much water flow. So I am cleaning the drum and inside of the unit manually with 10% cleaning vinegar every so often. A bit of a nuisance but seems to do the job.
- Rick Ivanoff
Other Similar Desert Spring DS3200 Humidifiers Reviews
On the Ball

I wish every company was as competent and "on the ball" as you guys are! Thanks so much.
- Bob
A very happy customer

I bought and installed your humidifier on my furnace late last summer. In the previous 10 years, I had installed 4 different humidifiers and replaced 100s of pads. I had to replace pads every month, because they were completely clogged. I tried feeding these humidifiers with both hard water, and soft water, each fouled the pads. I was apprehensive when I ordered your humidifier. When I received it, I was very impressed with the quality and design. Installation was easy, and it has run without maintenance for 4 months, and still looks new. I also installed and highly recommend the Auto-Flush-3 unit, which I am convinced has a lot to do with how clean the humidifier still is. In actual operation, the house remains very comfortable, and there has yet to be a single electrical spark shooting out of anyone's finger. I am a very happy customer who highly recommends this product.
- Dan from New Hampshire
Absolute Bargain

When I first bought your Humidifier, I thought "wow" is it ever expensive! But I can tell you today that I would pay 2.5 times, even 3 times more for your humidifier compared to other humidifiers because it is an absolute bargain. Your product really does the job. It ran a full season perfectly and at my humidity level of choice. Thanks, Desert Spring, from our whole family.
- Dave from Ontario
Desert Spring

I have a desert spring for over 10 years,i am really happy with the unit,the motor died ,so i replaced it with ease very pleased
- Peter filan
Desert Springs humidifier

I have used the humidifier for many years and love the fact I don't need to change messy water filters each week as it lasts the whole season. The company has been terrific and fast when I call them about any questions and recently solved a problem quickly when the small motor eventually needed replacing. Their response to my emails is immediate, helpful and knowledgeable and the humidifier does a great job keeping the whole house comfortable during the dry winter heating.
- Elizabeth Pollock
Desert Spring Furnace Humidifier

I was very impressed with the way this product was engineered. I as the homeowner did the installation and the product was very easy to install. Very good product! Works very well, would recommend DHiggins
- Dave Higgins
Desert Spring Furnace Humidifier

I was very impressed with the way this product was engineered. I as the homeowner did the installation and the product was very easy to install. Very good product! Works very well, would recommend DHiggins
- Dave Higgins
Let's fix it

I had a Desert Spring humidifier for a number of years but like most things it finally gave up. Now much to my surprise I was able to get parts to fix this old thing and keep my garbage bin light. Thanks for your good service.
- A.Poirier
Reliable humidifier

I've had the unit 20 years and replaced the motor once, evap cylinder just twice. Good quality equipment, fast service.
-
Great Humidifier

I have owned several of these and they work great. They are super reliable and keep my house in calgary at the humidity level I want. Its so good you have to remember to turn it down before cold spells or windows get covered in humidity. Buying online was cheaper then at Can tire and I got it in under a week.
- Jason Doc

- TONY FARAONE SR.
Desert Spring DS3200 Humidifier w/ Autoflush (DSRDAH) Customer Questions & Answers